Holidays in Lucca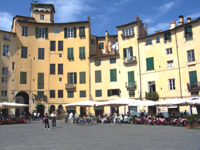 Do you want to organize a holiday in Lucca in Tuscany but you don't know what to see?
You are in Tuscany and you are curious to visit Lucca…. but you don't know where to start?
Don't worry, you are on the right track!
For all those interested in discovering the many aspects of Lucca and its entire province, here is the new tourist portal of the city that will guide you on a journey to discover the art, itineraries, customs and traditions that characterize these places. enchanted.
Guide Lucca also offers you the opportunity to get to know the city not only from an artistic point of view but also presents itself as a showcase that offers online services , information concerning economy and work , the treatment centers present throughout the territory. .
A large space is dedicated to tourists who want to know more about bars , restaurants , nightlife , shoppping and gastronomy .
Art, history and culture
To learn about thehistory and origins of Lucca , to guide you to discover the artistic treasures of the city, through a path between the most representative churches and museums from which you can glimpse the various styles and customs that have followed one another over the years and which have made Lucca one of the most important historical cities in Italy.
News, TV, radio, newsstand
The televisions, radios and newspapers that represent Lucca and its municipalities. To know the news, news , sport and events in the province of Tuscany .
Hospitality and relaxation
Hotels and bead and breakfasts , restaurants and pizzerias to find out more about where to stay or taste the typical Tuscan cuisine. And also recommended tourist itineraries , city excursions, excursions around Lucca and a journey to discover the Garfagnana and the Lucchesi Hills .
Shopping and gastronomy
Here you will find all the information you need in case you have some free time to spend: fairs and events , exhibitions , shopping centers and some curiosities about the cuisine and typical recipes of Lucca.
Sport, entertaiment
After reviewing the team Lucchese football , and on sports facilities at Lucca, we talk about entertainment, from theater to cinema, without neglecting the fun night!
Hospitals, treatment centers, private clinics
All useful information regarding the hospital in Lucca and those present throughout the province, including clinics and private care centers .
Associations and volunteering
Space dedicated to the voluntary associations of the province, addresses and useful numbers .
Economy and work
Economy in Lucca? Here is how the economy of the province works , what it feeds on and the main companies in the area .
Online services
We provide you with a series of services that you can use if you are in Lucca: weather , traffic , parking , webcams , pharmacies , libraries and much more!